Two more graphics -- one ran on Sunday with a story investigating lifeguard competence and the other went yesterday with a story on religious books (or lack thereof) in prison libraries. Probably the most challenging part of both graphics was figuring out what to show; there wasn't exactly a ton of data to choose from.
Less than Satisfactory Lifeguarding
I knew this was running on Sunday, but when I checked online, I didn't see it. I was a little disappointed, because it kind of sucks to make a graphic and then find out it was grilled. Luckily, that hasn't happened to me yet. Knock on wood. My lifeguard graphic wasn't on the Web, but it was in the paper.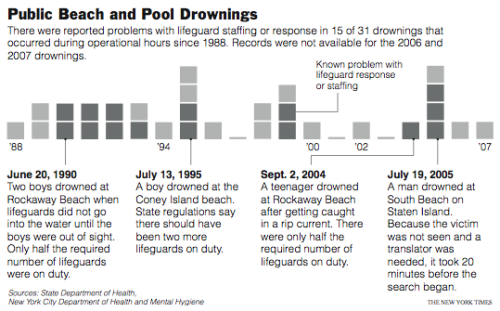 The graphic started as just small squares, but the results looked like they were missing something. It just looked like 32 tiny, shaded squares. They needed more context, so I highlighted incidents in which there were some serious lifeguard screw-ups. I think the excerpts make the graph a lot more human. What do you think?