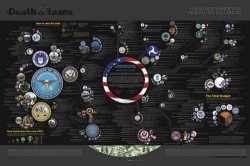 Death and Taxes: 2011 poster – Jess' annual look at government spending has hit the shelves. Use the code 'flowingdata' at checkout for buy one, get one free.
2 Girls, 1 Cup reactions analysis – Paul Shen tracks the sound and movement of people's reaction to the horrible video. The collage at the end is the best part. [via]
Fernanda Viégas is an influential woman – As if you needed another reason to contract Flowing Media for your visualization needs. [via]
China's investments in foreign companies – An animated map of investments from 2005 to 2009. Kind of rough around the edges, but Interesting.