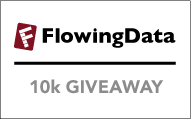 If you haven't read Malcolm Gladwell's Tipping Point: How Little Things Can Make a Big Difference, you're gonna wanna do that. I mean, there's a reason this book was a national bestseller. Good thing the next prize up for grabs is… Malcom Gladwell's Tipping Point. This giveaway is a quick one. The deadline is Feb 27, 8pm EST.
How to Enter
Super easy. Leave a comment below. That's it! The winner will be randomly selected at the deadline. Good luck.
UPDATE: This giveaway is now oooovvva. Thanks for participating, everyone! This is the last prize announcement in for our 10k giveaway, but there are still three giveaways still going on here, here, and here about to come to an end so get your entries in quick.