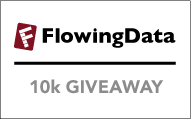 It's time for the first competition of our 10k giveaway. Not only is this first prize super awesome, but we've made it extremely easy to enter to win. This one's going to be open until March 2, 8pm EST, so you've got PLENTY of time to enter.
Prize Description

Tableau Software aims to make "databases and spreadsheets understandable to ordinary people" with an emphasis on statistical visualization and visual analysis. It's won a number of awards and has applications in business intelligence, web analytics, database marketing, university statistics, data analysis, and the occasional FlowingData Visualize This challenge. Also, one of the co-founders was a founding member of Pixar. Need I say more? Take a look at what you can do with Tableau in their Visual Examples section. The Tableau Personal Edition is valued at $999.
How to Enter
This is super easy. First, follow Tableau on Twitter. Second, go to this page. How many days is the Tableau trial version functional for? Send the answer and oh what the heck, your favorite color in an @reply to Tableau on Twitter in the following exact format:
"@tableau @flowingdata 10k giveaway answer: <some number> <favorite color>"
Of course replace <some number> and <favorite color> appropriately. Please only send your answer once, and it has to be via Twitter. Don't post your answers here. On March 2, a winner of a brand-spankin' new Tableau Personal Edition will be randomly selected. Good luck!
UPDATE: That's a wrap! Thanks for participating, everyone.