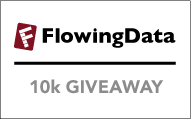 Want some easy-to-use online dashboard software? The next prize up for grabs is for you then – a one-year subscription to SiSense. This one will be especially useful for anyone who runs a business.
The deadline for this giveaway is Monday, March 2, 8pm EST.

Prize Description

A one-year subscription to a SiSense standard package – a $500 value – is up for grabs:
SiSense Prism is a powerful, user driven business intelligence tool that takes only a few hours to learn and implement. Our visual interface lets you effortlessly create analytics, reports, graphs and dashboards. Setting up Prism requires no IT support. SiSense offers non-technical users the ability to dashboard and analyze using common terminology and a drag and drop interface. We connect to different data sources and present them to the user in a unified way.

Using SiSense, you can connect to a data source and begin work immediately, relieving the need for IT to mediate between the business user and the data source. The results are easy to share with a workgroup or your superiors. Pricing ranges from a free version to tens of dollars per user month.
How to Enter
For a chance to win a one-year subscription to SiSense, simply find an example of a dashboard (the cooler the better) and leave a link to it in the comments below. Please only one entry per person. A winner will be randomly selected on March 2. Good luck!
UPDATE: This giveaway's all wrapped up. Check your email, and thanks for participating.