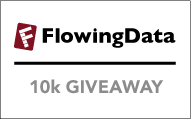 This is a special edition of Visualize This. Why? I'm glad you asked. Since our FlowingData 10k giveaway is now underway, it seemed fitting that we put up some prizes this time around. InfoSoft Global has generously donated three FusionCharts Professional Licenses valued at $499 each. This Visualize This will go the length of the 10k giveaway, so you've got lots of time to enter. Get your entries in by March 3, 8pm EST for your chance to win a FusionCharts Professional license.
Prize Description

FusionCharts lets you create animated and interactive Flash charts for online or desktop. Couple FusionCharts with InfoSoft's other products like FusionWidgets and FusionMaps, and you've got yourself the necessary tools to create a very worthwhile information dashboard. Use it in your web applications, personal data collection, in your business, or anywhere else you need to visualize data. FusionCharts can be integrated with just about all the major web technologies (e.g. ASP, ASP.NET, PHP, JSP, ColdFusion, Ruby on Rails, Python, HTML, MS SQL, Oracle, MySQL, PostgreSQL, CSV…) and the FusionCharts group has aimed to make things easy with very little code. Is that enough to whet your appetite? You're good? OK.
How to Enter
Unlike previous Visualize This projects, I'm not going to post a specific dataset. Instead, create a dashboard using the no-restriction trial version of FusionCharts on the theme of education and then post a link to to your entry to this thread in the FlowingData forums. If you haven't registered in the forums yet, you'll want to do that first.
The trial version of FusionCharts has all the same functionality as the licensed one, so go wild. You are also welcome to use any of other of the InfoSoft products in your dashboard. Make it clean, make it sexy, and most importantly, make it informative.
Feel free to focus on education data for just your area or make a dashboard for your entire country. Look at elementary schools, colleges, private schools, or all of the above. The key is to make a dashboard for a branch of education that interests you.
Here are some education data sources to get you started:
Got any others? Please post them in the comments.
The three best dashboards (chosen by me and readers) will each be awarded a FusionCharts Professional License. Good luck! I'm looking forward to seeing what you all come up with (and can we please make it more active than the last one?? By the way – thanks, Hadley).
Download the trial version of FusionCharts here.
Stay tuned. Awesome infographics posters coming up tomorrow.
UPDATE: The 10k giveaways is no finito. Thanks for participating everyone.