Here are some links for you to accompany your bag of chips, bowl of chili, and plate of wings as you wate for the Super Bowl to start.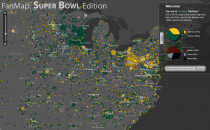 Super Bowl FanMap — Who are people picking to win the big game in your area? ESRI is taking votes and mapping them. Packers are far ahead, leading 64 percent to 36. [via]
Where the Streets Have Your Name — See where there are streets named after you. Yeah, you.
d8taplex — A super alpha version of something that looks like a data search engine with graphs.
Top-spending cities for personal care — Active north and sedentary south?