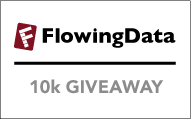 I majored in computer science. I hated it. I ran from it like the black plague. That was then though. This is now. It turns out that programming can actually be fun, and when you know how to program – if even just a little bit – it completely changes the way you deal with and visualize data, which is why Processing: Creative Coding and Computational Art is next up on the giveaway.
The deadline for this one is the end of today: Feb 20 at 8pm EST.
Prize Description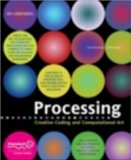 Processing is a programming language that can help beginners do stuff with code they never thought possible. The learning curve is pretty shallow, and you get a lot of bang for your buck with surprisingly very little effort. That doesn't mean it's limited in what it can do though. Built on top of Java, Processing lets you do pretty amazing things when you know what you're doing.
Processing: Creative Coding and Computation Art will help you in your path to coding enlightenment. "Create code, art, visualizations, and interactive applications with this powerful yet simple computer language and programming environment / Take a creative and fun approach to learning creative computer programming." I think that sums it up nicely.
How to Enter
Leave a comment below that answers this question: What is data visualization? Make your answer an essay, a paragraph, a sentence, a word, a picture… OK, pretty much anything. The winner will be randomly selected at the end of today. Good luck.
Find giveaways still in progress here, here, and here.
UPDATE: This giveaway is now closed. The winner will be receiving an email shortly. Thanks for participating all. Keep watch for more giveaways on Monday.