Stereotropes, made by the Bocoup Data Visualization Team, explores the many tropes in films and the the adjective used to describe them. Some are unique to a trope and some words span multiple tropes and genders.

Some of the greatest reflections on society take place in film, through complex characters, often falling into familiar patterns called "Tropes". Tropes are devices and conventions that a writer can rely on as being present in the audience's minds. Stereotropes is an interactive experiment, exploring a set of tropes authored by the community on tvtropes.org that are categorized as being always female or always male.
You can poke at the data from various angles — by adjective, by film, and by gender — but the most interesting views are when you look at individual tropes by themselves. You get general information about the trope, movies that use it, and the adjectives used to describe it.
For example, here's the overview for the "mama bear" trope: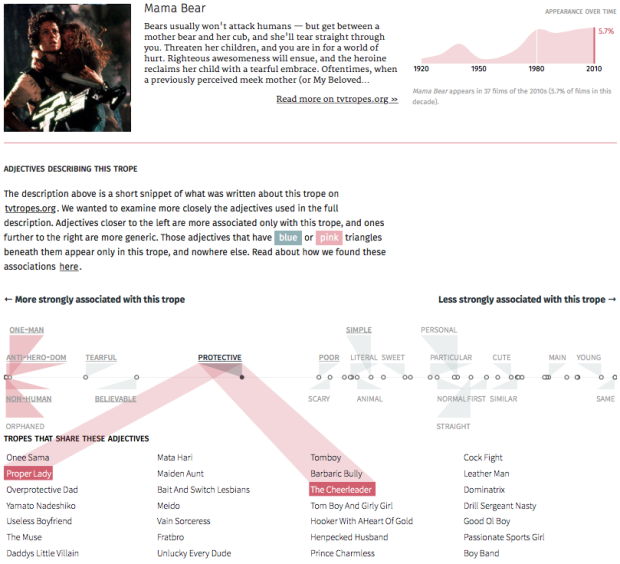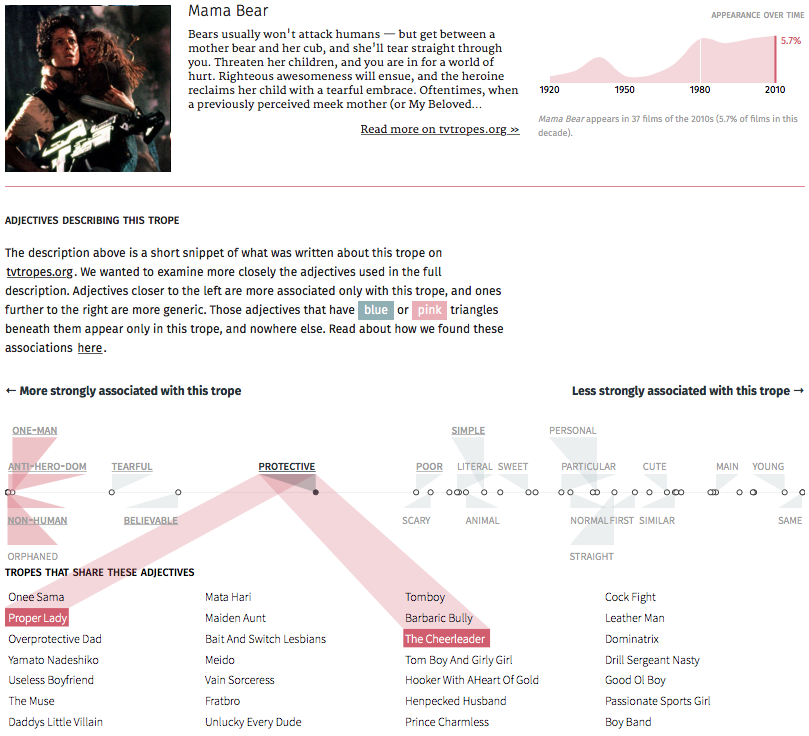 You get usage percentage over time at the top right and a list of adjectives in the middle. The more to the left an adjective appears, the more unique the word is to the current trope. Scan towards the right, and you see more generic terms. Mouse over an adjective to see what other tropes the adjective describes.
At first I thought the triangle size might represent something like usage, but it turns out it's just for readability. I haven't looked at the data, but I wonder if there's something that could have been encoded here. Otherwise, maybe just simple pointer lines would be better, because I was confused at first.
In any case, have a look at the full project. There's a lot to look at and it's worth poking around.