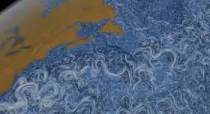 Horace Mitchell, director of the NASA Scientific Visualization Studio discusses the process behind their visualization that shows estimated surface currents around the world, Perpetual Ocean.
Once we have the data set, then we bring two things to bear. I'm a scientist by training — I have a doctorate in physics and I did research for about a decade — but everyone in my group has a level of understanding what the point is of all these animations. We know what we're doing, and what we're trying to bring out. Then, the team is amazing — working together, they play off of each other and every person in the team has a separate project they're working on. They're always bouncing ideas off of each other. As a result, over the last 10 or 20 years, we've gotten very good at figuring out what we can do. We have tools we can bring out at the drop of a hat to do certain kinds of visualizations. But we're always thinking about the next thing, and what we can't do yet.
People miss that very first part a lot of the time: "Once we have the data set…" No data means nothing to show.