In land of YouTube dislikes, Justin Bieber rules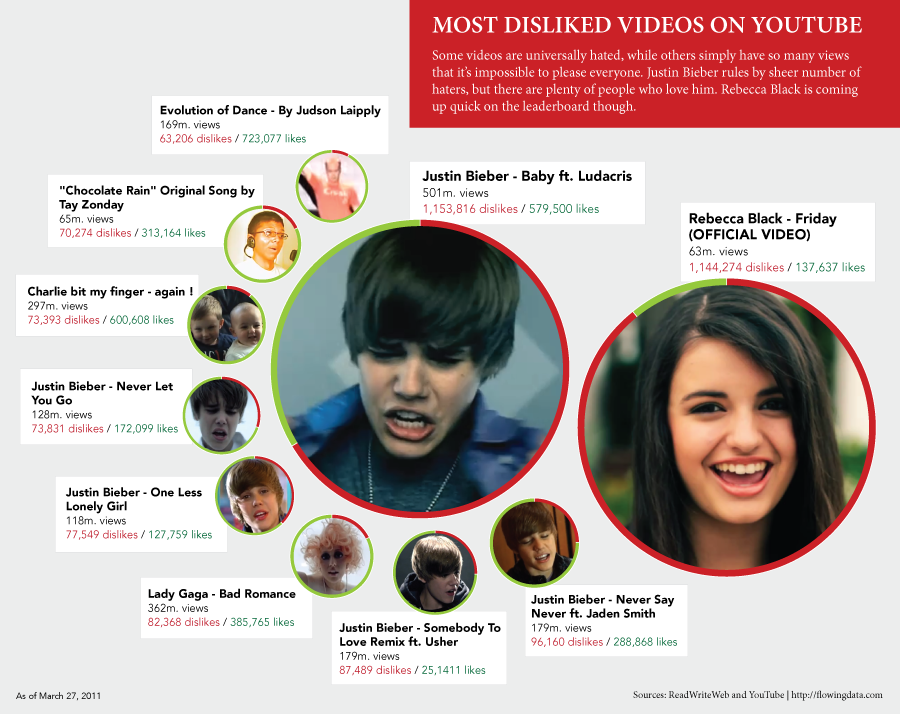 Happy Friday, everyone. If you'll allow me, I'd like to take a moment to talk about something serious.
In a move I believe is best for everyone (but mostly me), I am switching gears to only cover facets of pop culture and toilet humor. I will also be switching focus to online education. It's come to my attention that this is a lucrative area, and leveraging my authority on information and data graphics, I believe I can become a rich man and retire by age thirty, quite possibly making four figures even sooner.

Yes, there are other types of data in the world, perhaps more serious, interesting, and worth knowing, but the Web is not for serious or sad things. The Web is a place of free-flowing ideas (therefore this site's name) that revolve around things that matter to today's youth such as Justin Bieber and his new haircut. Case in point: the nearing shut down of Data.gov.
Most of you are probably not even reading this since there are several pictures of the teen dream above. Plus there are quite a few words here. Lengthy.
The above graphic is my first step towards my goal. With data courtesy of ReadWriteWeb, you can see the top ten videos with the most dislikes on YouTube. Some videos, like Friday from Rebecca Black, are hated by many, while other videos simply have a ton of views, and there's no way to please everyone.
This brings up another point. I know that many of you will be displeased with my choice like when I quit data altogether, but again, I do believe this is for the best. When you have a dream, you have to go for it, or you'll end up wondering "what if…?" and that is no way to live, my friend.
And so one chapter ends and a new one begins in the book of Nathan. Today, April 1, will forever be known (to me) as the day I changed my life. I hope you'll join me in this journey, but if not, please still tell your friends to visit FlowingData for all their online education needs. Thanks.
Become a member. Support an independent site. Make great charts.
See What You Get