Taking another step towards data transparency, the US government provides the IT dashboard via USAspending.gov:
The IT Dashboard provides the public with an online window into the details of Federal information technology investments and provides users with the ability to track the progress of investments over time. The IT Dashboard displays data received from agency reports to the Office of Management and Budget (OMB), including general information on over 7,000 Federal IT investments and detailed data for nearly 800 of those investments that agencies classify as "major." The performance data used to track the 800 major IT investments is based on milestone information displayed in agency reports to OMB called "Exhibit 300s." Agency CIOs are responsible for evaluating and updating select data on a monthly basis, which is accomplished through interfaces provided on the website.
Along with a page to filter and download spending data, there's a variety of views into the IT spending data that all provide a pretty good level of interaction.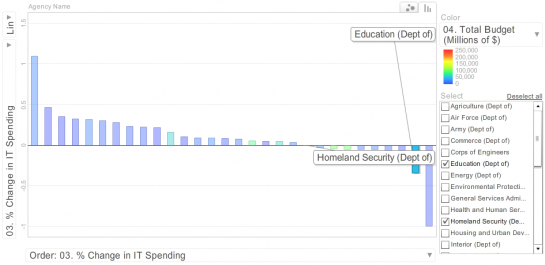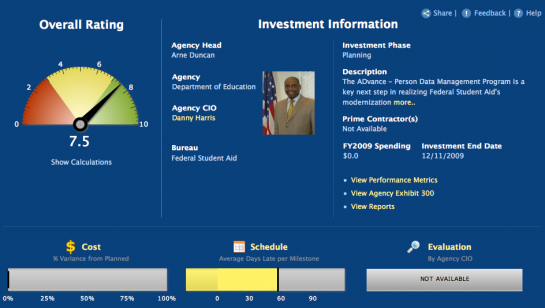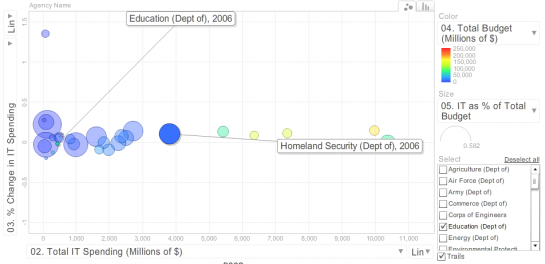 One thing I can't really figure out is if "IT investments" means investments in the traditional sense like stocks, or if it's something else. I was a little surprised that the government is making investments at all but I guess I didn't have any good reason to think that. I don't know. Maybe someone can explain it to me.
[Thanks Justin & Preston]