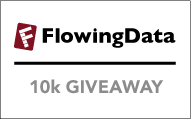 Our 10k giveaway is now complete. Congratulations to all the winners, and a big thank you to all of you who participated. I thoroughly enjoyed some of the entries, especially the reader introductions (nice to know you all are living, breathing humans :) and the data visualization definitions. It just goes to show how diverse FlowingData readers are.
I also want to take one last chance to thank the 10k giveaway sponsors. They put up some really awesome prizes for all of you. Please do give them a visit if you get the chance. Here's a recap of all the prizes and where they came from:
Again, a big thank you to all of you. Thank you for reading FlowingData and keep spreading the word – statistics is the new sexy and data visualization's future is bright :).