A while back I asked what you wanted to see more of on FlowingData. Thanks to the 447 of you who responded.
I was actually kind of surprised that there were so many votes for statistical visualization. I thought there would be more of a balance between design, art viz, and stat viz. I was, however, happy to see that the second most voted-on choice was "All of the Above." I must be doing something right! So by popular demand, here's some statistical visualization.
Pie Chart Alternatives
Since the above pie chart is making some of you cringe in agony (although I can't imagine why), let's take a look a few alternatives for the pie chart using the same poll results.
Bar Chart
How about a horizontal bar chart? The results are sorted and you can easily see the difference in voting counts.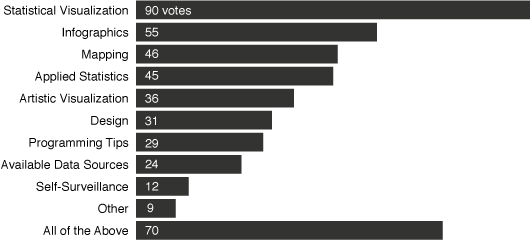 Stacked Bar Chart
The above bar chart is missing a little something though. It doesn't explicitly show that each bar is really a part of a whole – in this case, all the people who voted. How about a stacked bar chart then? It shows the groupings and is a little easier to read than the pie chart in the sense that it's linear differences as opposed to radial.

Bubble Chart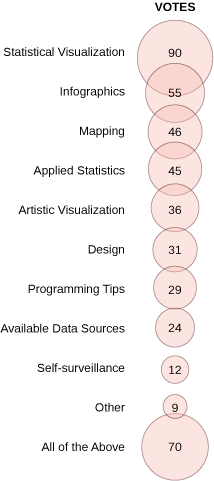 Let's not forget our friends the bubbles. Carrying the same "problems" as a pie chart, the bubbles on the left are essentially a table with some flavor.
Personally, I still like the pie. Which one do you think is best? Or is there something else that might have been better than the above? How about a mosaic plot? Donut graph? A plain table?