Andrew had some comments about the graphs on Freakonomics that showed a seemingly odd "change of fortune" for Roger Clemens.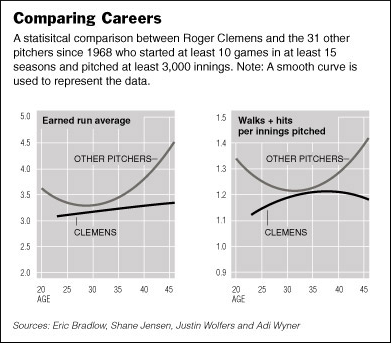 You can see that Clemens almost followed an opposite pattern from all other pitchers in the league. As Andrew notes though, there seems to be a lot riding on the quadratic fit and average values when we know that Clemens has been anything but ordinary throughout his long career.
Graphing Without Smoothing
For fun, I tried graphing the ERA data for Clemens against the ERAs for the 16 most recent hall of fame pitchers (that I could get data for). My thinking was the hall-of-famer performances might be a better indicator of what should be "normal" for great pitchers. The results are a little less compelling. However, one thing to note is that most players who played past age 40 saw an increase in ERA while Clemens had a pretty significant improvement in ERA from age 40 to 43.
Whether this is due to performance enhancing drugs or just a change in pitching strategy, coaching, or some other factor, I can't say. There's probably only a few people who can know for sure.
Anyways, if anyone has a different take on the data, I'd love to hear it in the comments.