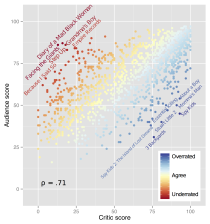 Ben Moore was curious about overrated and underrated films.
"Overrated" and "underrated" are slippery terms to try to quantify. An interesting way of looking at this, I thought, would be to compare the reviews of film critics with those of Joe Public, reasoning that a film which is roundly-lauded by the Hollywood press but proved disappointing for the real audience would be "overrated" and vice versa.
Through the Rotten Tomatoes API, he found data to make such a comparison. Then he plotted one against the other, along with a quick calculation of the differences between the percentage of official critics who liked and that of the Rotten Tomatoes audience. The most underrated: Facing the Giants, Diary of a Mad Black Woman, and Grandma's Boy. The most overrated: Spy Kids, 3 Backyards, and Stuart Little 2.
The plot would be better without the rainbow color scheme and a simple reference line through the even-rating diagonal. But this gets bonus points for sharing the code snippet to access the Rotten Tomatoes API in R, which you can generalize.