Movies are a curious business. There a variety of forces that encourage people to pay for a movie ticket with an ever-increasing cost, one of those being the aggregate ratings on Rotten Tomatoes, but it's not uncommon for well-reviewed movies to profit small and poorly reviewed movies to profit big. Krisztina Szucs takes a look at this relationship between Rotten Tomatoes score and profit.

It's like a parallel coordinates plot, but the second column represents two values, budget and worldwide gross, which creates a spotlight effect. So big spotlights represent high profit, whereas narrow spotlights that point down represent well reviewed movies that had relatively smaller profit. Movies are categorized by year and genre.
See the full-sized version here.
This was an entry for the Information is Beautiful Awards, and the challenge was to make use of this dataset of Rotten Tomatoes scores and worldwide gross, among other things. They announced the winners yesterday, but Szucs' work didn't place even though it was better than the graphic that did win.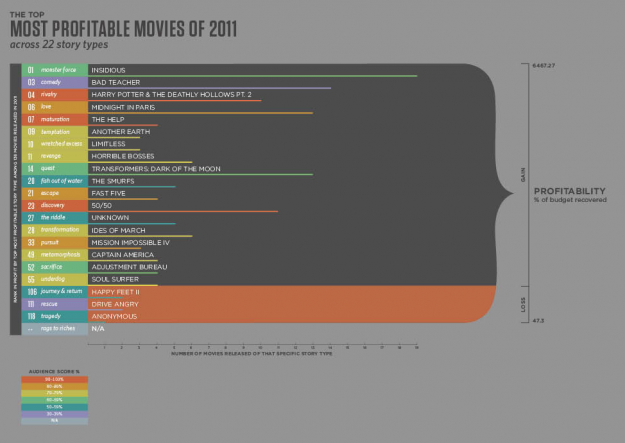 The judging comments for the winner: "Beautiful colours. Simple condensed design. Clever use of multiple axis. Intriguing findings." No offense to the winning graphic designer, but whaaaa? I didn't get that at all. The rainbow palette must have blinded the judges into confusion.