With the start of the NBA playoffs tomorrow, it's worth coming back to Kirk Goldsberry's analysis on the evolution of Lebron James' shot preference. James used to hang around the 3-point line a lot, but he spends a lot more time in the low post these days.

In the last game of the 2011 Finals, James was almost listlessly loitering beyond the arc, hesitating, shying away, and failing to take advantage of his freakish stature. His last shot of those Finals was symbolic: an ill-fated 25-foot jump shot from the outskirts of the right wing — his favorite 3-point shot location that season. The next morning, newspapers and blogs didn't forget to remind us that James wasn't a clutch player. Although few would admit to it now, countless media personalities took the opportunity to opine that LeBron James simply didn't have "what it takes" to win championships in this league.

But something was about to change.
Above is James' shot chart for this season, and the change is more obvious when you compare that to the previous two seasons: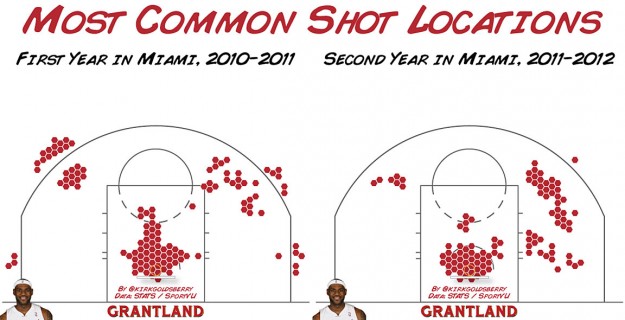 The gold is really in Goldberry's analysis though. If you're into basketball, it's definitely worth reading his other articles. [Thanks, Alec]