Growing up, most of my friends had cable television, but whenever I brought it up, my parents would always say that I watched enough TV already (which was true). So it was always a treat when we went somewhere like a hotel, where there were more than five channels. I didn't know what any of the shows were, but it sure was fun pressing buttons on the remote. Today, I still don't know what most of the shows are, but the novelty is gone.

Nowadays, I have different choices (and priorities). I can entertain myself online, and services like Netflix and Hulu make that easier. When I do turn on the TV, it's often just for background noise as I cook dinner or do something on the computer.
I almost never watch shows when they actually come on, and I only know the schedules of a few of them. And nowadays, the gift of choice feels more like a waste, as I flip through sixty something channels and see nothing that I want to watch.
The other day I thought to myself, "I'm paying forty bucks per month to watch Groundhog Day. Again." But then I looked at the cable bill that I had not looked at in a year, since it's on auto-pay. I'm paying $64.99 for digital cable from Comcast, plus $15.95 for HD and DVR, and then there's about $5 in taxes and fees. The introductory price ran out long ago.
I could buy an obscene number of tacos from Jack in the Box with that cash.
So I looked into cutting the cord completely. I want to save money, but more importantly, I want to get more of what I want for my money. Toss the channels and shows I don't watch.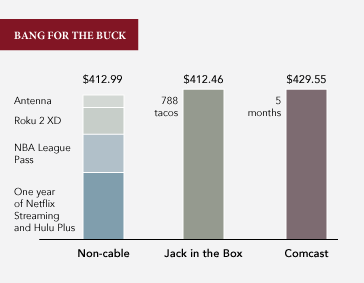 At $85.91 per month for the most basic HD plan from Comcast, that comes in at just over a grand per year. With Netflix and Hulu, it's $15.98 per month, or just under $200 per year. That's a big gap between Comcast and Hulu+Netflix. $839.16, to be exact, which is quite a buffer.
Of course you need a device if you don't already have one to play Netflix and Hulu on your television. A Roku costs between $50 and $100, and an Apple TV is about $100. Current difference: $739.16.
Also, you don't get all you want with just Hulu and Netflix. Personally, I watch basketball when good games are on. The NBA League Pass lets you watch (more) games over broadband though, on a Roku or Apple TV. That's $109 for the season. But, and it's a big one, in-market and nationally broadcast games aren't available via the League Pass. More on this to follow. Current difference: $630.16.
Then to get local channels, you can still use an antenna. The bestselling antenna on Amazon is $35.99. Current difference: $594.17.
Finally, that leaves a healthy amount to buy and rent shows and movies not available on Hulu or Netflix, which you can get on iTunes and Amazon Instant. For example, the pass for this season's How I Met Your Mother is $26.47. You could buy (and own) 22 full seasons of your favorite shows with the available buffer. I'm pretty patient though and don't mind waiting for stuff to become available on Netflix. I just need to be able to watch sports live. My wife has been really into Downton Abbey, and the season pass is $17.04. It's free on PBS, but she usually can't watch it when it airs. Current difference: $577.13.
After all the additional stuff, that's $577.13. Over 1,000 tacos.
But back to the basketball problem. Since League Pass doesn't get me nationally broadcast games, that means I wouldn't get most of the playoffs on ESPN and TNT. (I suspect the same for hockey, baseball, and football.) That's the most important part of the season, save the finals, which are broadcast on ABC. And my wife really likes HGTV and a handful of reality shows that aren't available on Roku, Apple TV, iTunes, or Amazon. Crud.
By the numbers and tacos, it makes sense to cut the cord. From a perspective of want though, it's harder to let go. It comes down to this: Is a year of a tiny subset of programming on cable and playoff games not available on ABC worth $577.13?