My pending thesis is on personal data collection (i.e. quantified self, personal informatics, self-surveillance, or whatever you wanna call it), so there's a special place in my heart for projects with data about an individual, no matter who they are. It's like taking a peek at part of someone's journal that they've decided to make public.
Designer and architecture student Lauren Manning has documented her life for the past two years, and for her thesis project, she visualized a subset of that data — her food consumption in 2010 — with a variety of over 40 graphics. Instead of sticking with a single, optimized view of her data, she stood back and let the data fly to see what would happen.

Here's a simple aggregate view of what Manning ate during 2010. It was a year dominated by chicken and vegetables.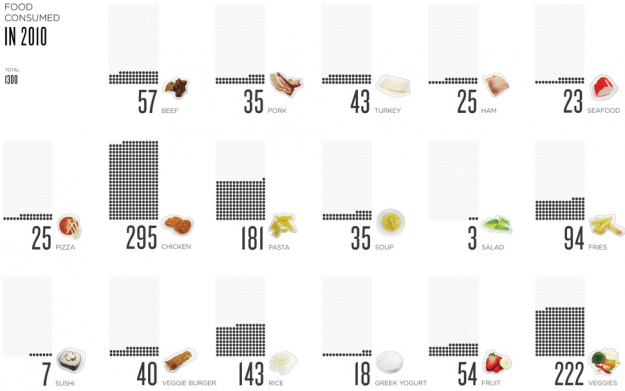 This one uses concentric circles to show consumption over time. The inner most circle is January, and you work your way out. The thicker the circle, the more of that food item that was eaten that month. It looks like she bought a box of veggie burgers from Costco at the beginning of the year.
And finally, all the graphics were placed in a grid layout as shown below. They were arrange from simple to complex on the horizontal and abstract to literal on the vertical.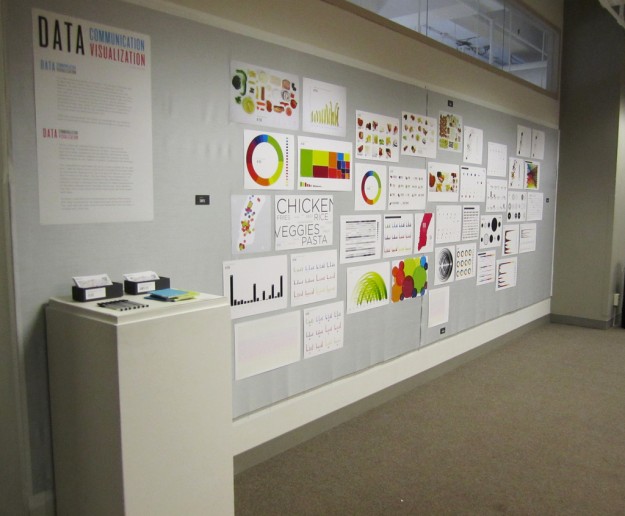 Obviously a lot of these graphics aren't going to fly in the workplace, but as an abstract self-portrait, this is just fine and dandy.