Designer David Wicks compares rainfall against water consumption in his thesis project Drawing Water:
Drawing Water is a constructed landscape shaped by the relationship between where water falls and where it's consumed within the United States. It builds images to expose the reality that water is channeled, pumped, and siphoned to locations far from where it falls. Although the paths are imagined, Drawing Water is based on real data and it reveals a clear truth about water resources and use.
The placement of each line represents a rainfall measurement, and the length and end placement is based on urban consumption. Lines pulled farther from its source change to black. The data comes from two sources: USGS for water consumption and NOAA/NWS for rainfall data provided.

Direct comparison of the two data sources seems kind of like an oversimplification of what is actually going on, so maybe someone who knows more about water flows and sources can chime in on the comments; but the end result is pretty and provides something to think about.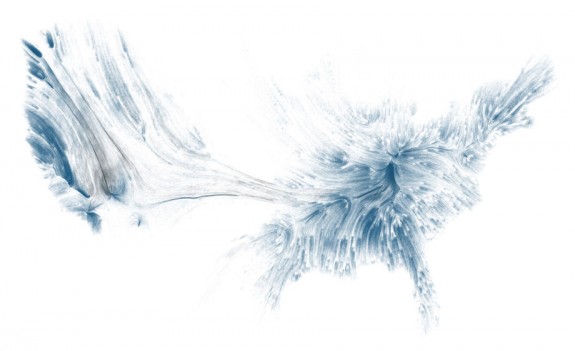 Watch the animated version in the video below. Reminds me of when I used to play with my U-shaped magnet and iron shavings.
[Drawing Water via Fast Company]