Not many people understand the importance of data privacy. They don't get out how little bits of information sent from your phone every now and then can show a lot about your day-to-day life.
As the German government tries to come to a consensus about its data retention rules, Green party politician Malte Spitz retrieved six months of phone data from Deutsche Telekom (by suing them), to show what you can get from a little bit of private mobile data. He handed the data to Zeit Online, and they in turn mapped and animated practically every one of Spitz' moves over half a year and combined it with publicly available information from sources such as his appointment website, blog, and Twitter feed for more context.

This profile reveals when Spitz walked down the street, when he took a train, when he was in an airplane. It shows where he was in the cities he visited. It shows when he worked and when he slept, when he could be reached by phone and when was unavailable. It shows when he preferred to talk on his phone and when he preferred to send a text message. It shows which beer gardens he liked to visit in his free time. All in all, it reveals an entire life.
Press the play button and watch him go, or use the timeline on the bottom to skip to specific spots. Slick, well-designed, and thorough reporting.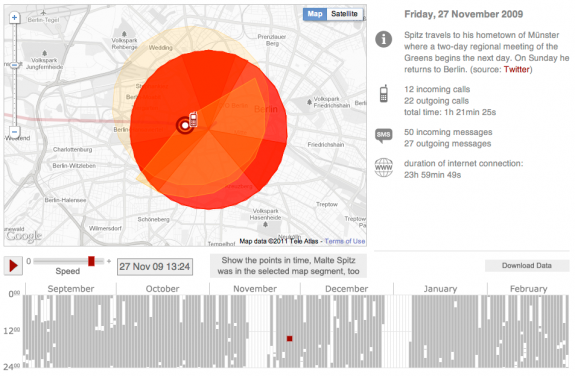 Want to see the data for yourself? Download the spreadsheet. Zeit did omit phone numbers, but it should be easy to see how that could add a whole other level of complexity.
Then again, some people already share all this information via Foursquare and Twitter. Is that a good thing?
[Zeit Online via @aaronkoblin]