I was going to post this graphic from Good when it came out, but decided not to. I made the same mistake when I first started out. It was another case of wrongly sized bubbles. But they fixed the problem, so now we can see what a big difference it makes.
The above is the original. Notice how much bigger the right bubble is compared to the rest; however, it should only be a little over four times bigger than the second from the right, and about 30 times bigger than that itsy bitsy, tiny bubble on the left. It's clearly wrong. I scaled some circles to see what was going on, but I'm not sure. It wasn't even sizing by radius.
Here's the revised version. Bubbles are correctly sized by area (proportionate to the square root of the radius). Much better.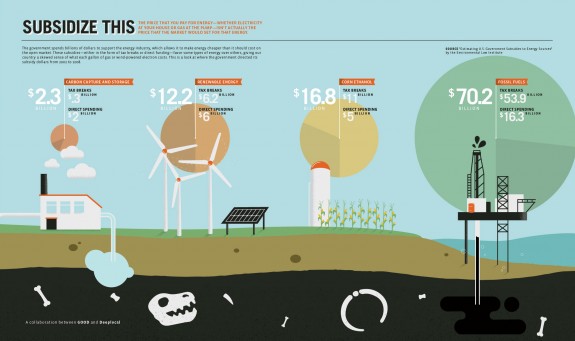 The lesson: graphs and charts might be automatically generated by your software, but you still have to make sure the output is right.
Now we can discuss the content rather than the mechanics. The graphic shows government subsidies for different energy sources. It argues that there is a skew in funding for fossil fuels, hence the larger green bubble. But how much of that difference is simply because there are more fossil fuel sources than the others?