President Obama will be answering questions live at a youth town hall today at 4pm EST, with livestreaming on MTV, BET, and CMT. He'll be taking questions from the audience and possibly from Twitter. If you want to keep track of the conversation, the folks at Stamen have got your back with their visual Twitter tracker:
The visualization is online here, and builds on work that was previously battle-tested at the 2010 Video Music Awards. The idea is that you post messages to twitter with the #ask hashtag, followed by the issue you're interested in asking the President about. If it's a good one, he may answer it on the air.
Like the VMA visualization, topics are tracked and ordered by popularity. But instead of showing celebrities, this one shows issues that people on Twitter care about. A bar chart on the bottom left shows trends over time.

Click on a topic, and you can browse tweets with the selected hashtag. Right now, #mygreatesthope is the most popular.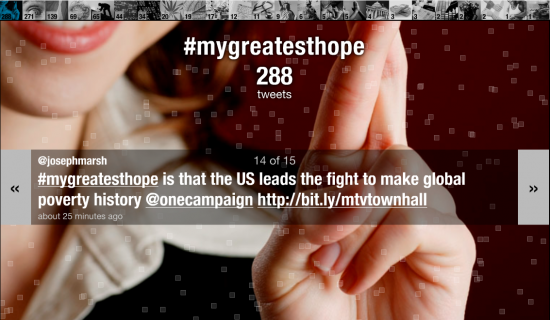 Finally, it's not just a self-encapsulated piece. You can also tweet directly from the visualization, and you can click on the hashtags to see all related tweets via Twitter.
And of course, this will get all the more interesting once the event actually begins in a few hours. Good, good, good.
I love how all of this is becoming so normal.