The Olympics are in full swing, so of course Twitter is abuzz with every big event. Want to keep track of the trends in real-time? Watch the Olympic pulse, by Stamen Design, on the NBC site.

It's a self-updating, browsable treemap with deeper keyword breakdowns when you click. For example, as I write this, Apolo Anton Ohno just won silver after a crazy finish in the 1500. Click on the related rectangle, and see the related tags and recent tweets. Use the scroll up top to move through time.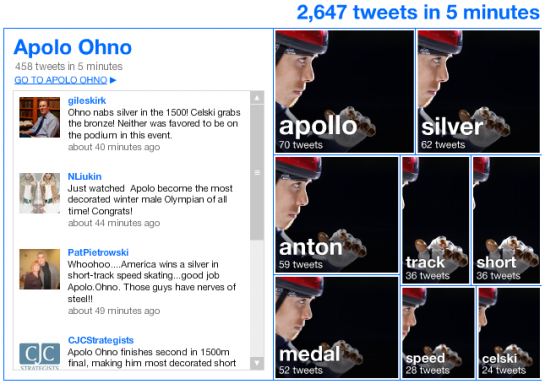 Slick work from Stamen. With the MTV VMA tracker last year, one for Hope for Haiti recently, and now this, I suspect Stamen is in a nice place to start streamlining a lot of this stuff (if they haven't already).
I have a feeling we're going to be seeing a lot more of this sort of thing this year. Not just in the public domain, but also for internal use with businesses. Something tells me there are a lot of companies who are interested in hearing what people are saying about them on Twitter and other social media sites. Just a hunch.