Statistical graphics are often… kind of bland. But that's fine, because they're usually for analysis, and the wireframe does just fine. The time eventually comes though when you need to present your analytical visualization in a paper or some slides, and you're no longer the primary reader.
In their NYT op-ed on health care calculations, Andrew Gelman, Nate Silver, and Daniel Lee had some graphics of their own that needed some NYT flavor and design treatment.

The above maps are a redesign of the original: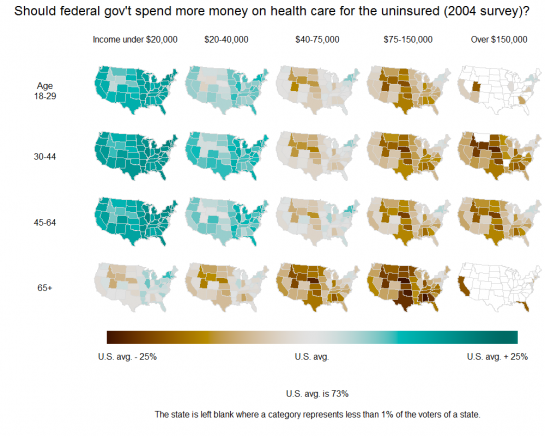 Notice the different color scheme, label changes, and some rearranging.
Then there was this original chart that shows senate and state support for health care: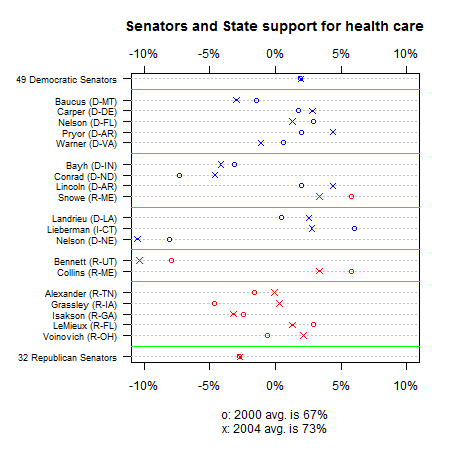 Here's the redesign: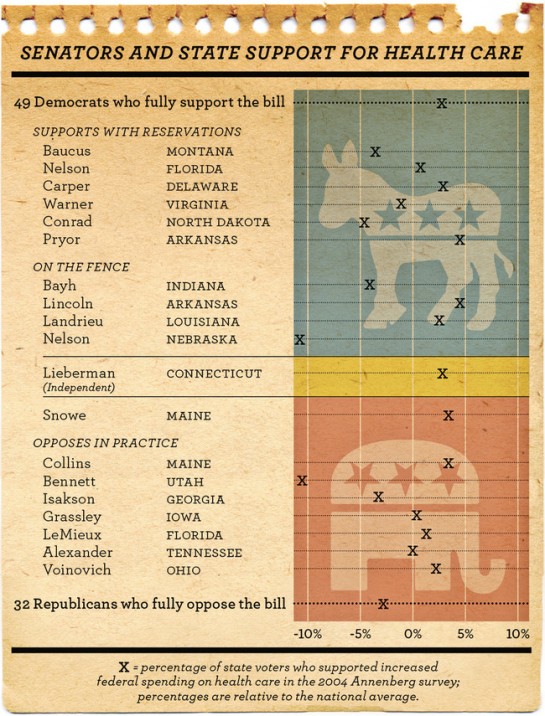 Instead of putting all the political parties on one chart, points are split by Republican, Democrat, and Independent. The redesign also only shows the 2004 numbers.
Not Just Prettified
Obviously the NYT versions look better, but it goes further than aesthetics. It's about readability and adjusting graphics for an audience that's not just you. As Andrew notes:
I liked our graphs, but the Times versions are better […]

It's tougher to make graphs for a newspaper than for a book, scholarly journal, or even a blog, I think. Even beyond the different audiences, a newspaper graph really has to be self-contained. In a book or article I can accompany the graph with a caption, and I make full use of captions to make each graph reasonably self-contained (to the benefit of people such as myself who jump from graph to graph when reading), and in a blog I can put whatever I want right below the graph. But in the newspaper, the graph really has to stand alone and with minimal captioning.
And I think there in lies the difference between a visualization and an infographic.
Back to you – are the NYT redesigns an improvement?
[via Junk Charts]