If I've learned anything about designing information graphics, it's that attention to detail and small changes make a mediocre graphic into a really useful and usually more attractive one. It's what sets New York Times graphics apart from those in other publications and especially those in academic papers. Something like a short annotation can add context or a line shifted slightly to the left can make data look less cluttered.

Case in Point
Take Martin Wattenberg's redesign (above) of Dolores Lab's original color cloud (below) for example. The original was on infosthetics, so I'm assuming everyone's already seen it, but just to be clear, people were asked via Amazon's Mechanical Turk to classify colors on a color wheel. The visualization shows how people labeled different shades.
The original is kind of nice to look at and under close inspection, even provides some interesting tidbits. In the redesign, it's pretty clear how color was selected and looks a good bit prettier. All it took was a change in background color and a change in scale by frequency.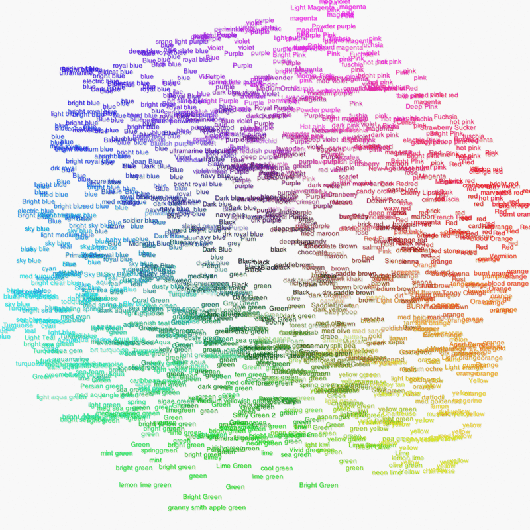 Statisticians haven't really picked up on the usefulness of design yet, but they will eventually if I have anything to say about it.