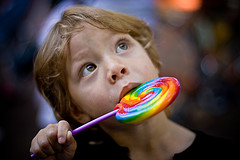 Photo by horizontal.integration
There's this one phrase that really bothers me when it comes to data graphics. No doubt you've heard it or read it, and maybe it even popped into your head once or twice.
The phrase I'm talking about is: "Edward Tufte is crying."
People like to say this when they see a graphic that doesn't fit the ET law of high data/ink ratio. Then after the commenter has declared that ET is in fact a very emotional man, the graphic is classified "chart junk."
First off, I'm pretty sure ET isn't that melodramatic. He doesn't cry over a bad graph nor does he die a little inside or roll over in his grave if he were dead. I don't think an angel get its wings every time he rings a bell either. Although I could be wrong about the latter.
Second, not everything that fails to fit the mold of a traditional graph, visualization, or whatever you want to call it, is chart junk. One person's chart junk is another person's eye candy. What you see just depends on what angle you're looking at it from.

Eye Candy
Generally speaking, eye candy is a visual treat. It doesn't have to do with data, but for the purpose of this post, let's pretend it does.
Now for me, eye candy can be a well-designed traditional chart or infographic, or it can be more abstract. It's essentially anything that stimulates my brain in a positive way. It might be because of some really impressive design or it could be about careful analysis. Or it could be both. Maybe it's data art or maybe it's visualization.
For example, a lot of transparencies from GOOD magazine are misclassified as chart junk, but a lot of the graphics are not meant to be read as traditional charts. They're some blend between visualization and data art, or I guess information aesthetics if you want to give it a name.
Sure, a lot of the data that GOOD makes visual could quickly be visualized as a bar graph or time series plot, but they're going for something less mechanical. They're trying to (artistically) express a story in the data.
I'm not saying that every transparency is spot on, but I think it's a lot more than some give the designers behind the graphics credit for.
At the other end of the eye candy spectrum are graphics from The New York Times, but I don't have to argue much for them since they're universally loved, right?
In the end, both GOOD and NYT are showing truth. It's just that one is more opinionated while the other is about getting just the facts out.
Chart Junk
With that said, there is plenty of chart junk out there. I point it out sometimes, but I usually leave that job to Kaiser.
I haven't picked up a Tufte book in a while, but I think of chart junk as the stuff on graphs that are supposed to be just the facts. It's the stuff that obscures the data, misleads readers, or makes graphs hard to read i.e. mislabeled axes, retina-burning colors, or gratuitous use of the third dimension. It comes from poor design or a misunderstanding of the data.
Chart junk also usually finds its way onto graphs that are trying to be "visually stimulating." You'll find these in a lot of Powerpoint presentations where someone graphed some data using the program's defaults and then smacked some weird clip art to make it um, cool, I guess?
Background images on graphs are also pretty ridiculous. Rarely do they work, so if you're unsure, it's best to just leave those out.
The Difference
Alright, so I've provided some examples, but what's the difference? Well, to be honest, there's no clear cut line between chart junk and eye candy. It has something to do with beauty in the eye of the beholder.
But if I were to take a stab, I'd say the main difference between the two is that chart junk comes out of carelessness or perhaps simply a lack of experience, while eye candy comes out of careful thought and an abundance of experience.
What do you think – Is there a difference between the two?