We spend so much time trying to make our graphs accurate, simple, understandable, etc that we forget the lost art of making graphs that are inaccurate, unreadable, make absolutely no sense, and make your eyes want to vomit. I'm so tired of understanding data. I want to experience it, and I know you want to also.
So this one's for you, crappy graph.

We'll start with the graph below from a poll a few weeks ago: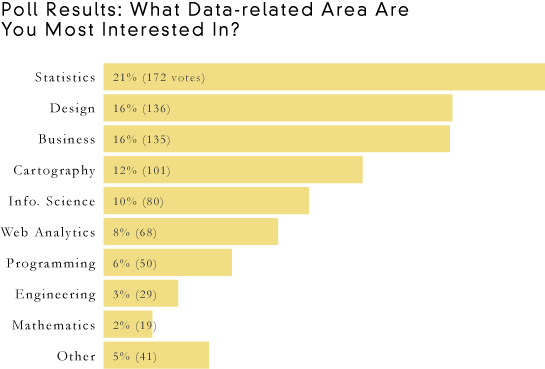 It's perfectly fine, but there's just one problem: you can read it, and when you're trying to do ugly, readability is a no-no. With ultimate confusion in mind, let's move on to our six easy steps to ultimate ugly.
1. Use Lots of Pretty Colors
The most obvious problem with the original graph is that it's not nearly colorful enough. All the bars are the came color with black labels. Seriously. What's that about? We need to make this graph sing with bright colors, and lots of them. In fact, the more your graph looks like the technicolor dreamcoat, the better.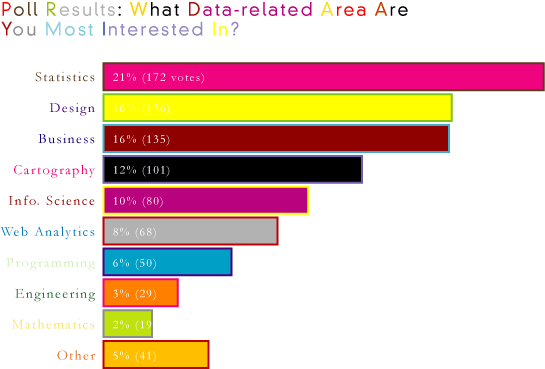 Much better. It's looking good already.
Please note the insignificance of color choices. Give as little thought to what colors you use as possible. When you try too hard, the reader will feel like he has to try hard to understand what's going on and therefore ignore the graph completely.
2. Make it Unitless
I specified percentage and votes in the original graph, which is just plain stupid. Units clutter and are utterly useless. Readers are smart enough to figure that stuff by themselves. Remember you want to make the reader think for a very long time. It should take hours before someone knows what your graph means.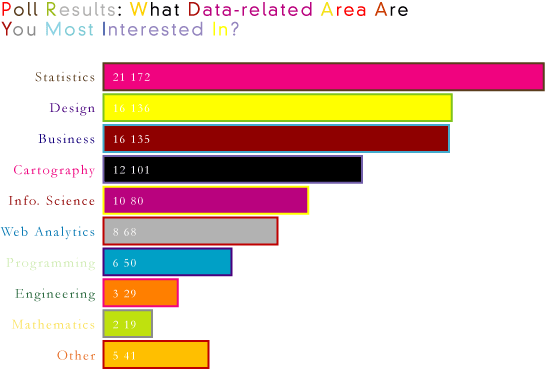 Ah, bright and ambiguous, just the way I like it. I am sure you agree.
3. Forget About Sorting
Forget about sorting values numerically or alphabetically. This goes back to the previous lesson. You want to make the reader think. It's all about time consumption, confusion, and deep pondering.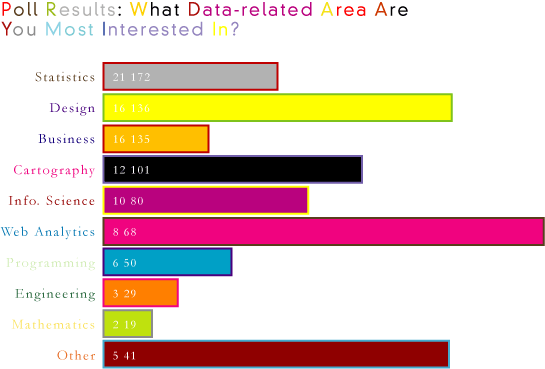 That's better. Now it looks more human i.e. random. Graphs that look like a computer made it are dry, sterile, and boooorrring.
4. Spell Incorrectly
Typos are a perfect opportunity to make sure your readers are paying attention. Try using numbers in place of letters or removing words completely to keep things interesting.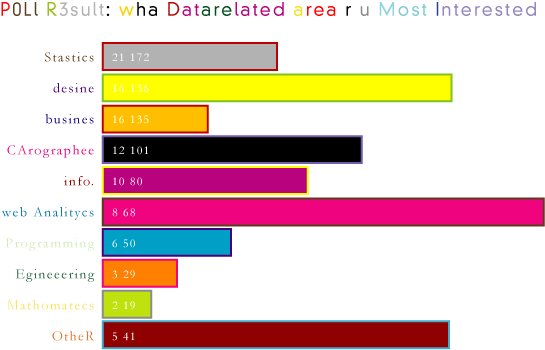 There's a reason why YouTube is so successful – the lively and insightful, almost illegible discussion of all the videos. U WNT ur c0pee to l00K just LIKE C0mm3ntz 0N U2be vidyos.
5. Use Decorative PIctures
So far this graph looks a lot like, well, a graph. Graphs bore people, and if you want to get your point across, you've got make it look like art or a comic even. Add decorative shapes and pictures to really make your "graph" pop.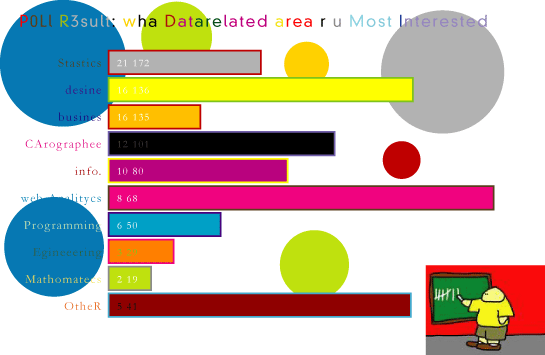 That's more like it. Now we're getting somewhere. Is it a graph? It it a comic? Is it art? I don't know. Maybe all the above. One thing's for sure though. It's darn ugly, which is exactly one we want.
There's just one more step to make your graph pure ugly!
6. Arrange Everything Uniquely
Now is your chance to catch people off guard. Arrange everything so that your graph looks like none of the other graphs out there. Make your readers look for the title, and don't make it too easy to glance over.
Oh, and let's not forget Comic Sans font. Don't you just love it? Smart and sophisticated with a touch of humor. Graphs are fun, so make your graph look the part.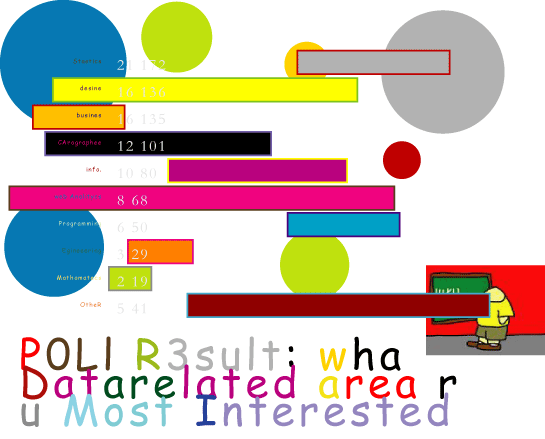 There you go, ladies and gentleman. There are your six easy steps to making your very own ugly graphs. Go out and amaze your co-workers and wow the rest of the world who don't know what they're doing.
One more thing…
In case you're oblivious to sarcasm, the above six steps are a guide for what not to do, so for all that is good and pure please don't actually follow them. If you want a proper guide, just follow this in reverse and do the opposite of each step.
There is a takeaway here though. When learning to visualize data, it's just as important to learn what not to do as it is what is to learn what is right. You can read about "the rules" in a book all you want, but if you really want to learn, like all things, you have to practice.
So what did I miss? What other graphing pitfalls did I miss? How can you make this graph even uglier and more illegible?