If you're a parent, most likely you want your children to go to the best schools available, but what if you found out that the school that they attend didn't measure up to the school a couple miles away? Using previously unreleased federal education data, ProPublica helps you compare.

ProPublica analyzed new data from the U.S. Department of Education Office of Civil Rights along with other federal education data to examine whether states provide students equal access to programs — such as Advanced Placement or higher-level math and sciences classes — that researchers say will help them later in life. We found that in some states, high-poverty schools are less likely than wealthier schools to have students enrolled those programs.
Enter an address or school name and get some quick numbers about your school or ones near by such as percent of new teachers, school size, and percentage of students taking at least one AP course (shown above).
Then hit compare to see how your school measures up against the rest.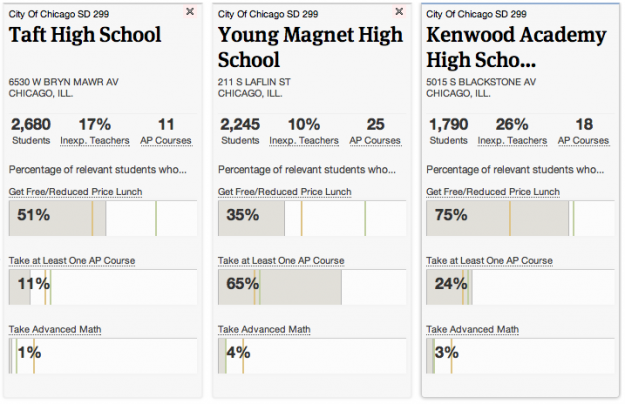 What does your childhood or child's school look like? Do the numbers match your perception?
[The Opportunity Gap via @pilhofer]