I started tracking what I eat and my weight using Twitter in an effort to shed 10 pounds and consume less. It's already been (a really fast) two months since I started this experiment — I've lost 7 pounds so far. While there are a number of factors that can contribute to weight loss (and gain), I think the simple act of tweeting raised my awareness just enough to make me feel guilty for eating that bag of chips in the middle of the afternoon.

I Need Your Help
So I got enough positive response to keep going with this idea. I expanded my application so that anyone with a Twitter account can monitor his or her weight and eating habits. I also added two more services — sleep (above) and mood (below).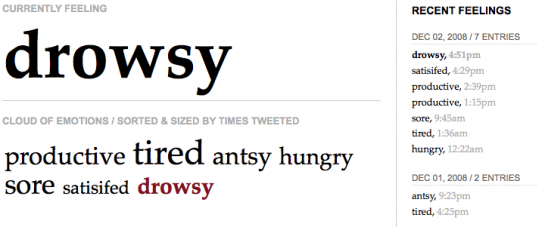 I'm not quite ready to open it up to everyone just yet. You all will be the first to know though. In the meantime, I need some people to test the application under the following non-daunting conditions:
You have a Twitter account and actually know how to use it
After two weeks of use, I can email you a few questions about what works and what doesn't
Ideally you'd want to lose some weight, change your sleeping habits, or are interested in your emotions. It's sorta useless otherwise. Well, I guess pure curiosity could be another reason. Anyways, if you'd like to test it out, let me know in the comments. Leave your Twitter username and use a valid email address so that I can send you the info to get started.
UPDATE: This isn't an app that processes your Twitter feed. Rather, you send direct messages to a bot and the app does the rest of the work – a similar process you might have seen on services like mycrocosm, Daytum, or FoodFeed.