As many of you know, I've been working on a project that lets you collect data about yourself via direct messages on Twitter. It's called your.flowingdata (YFD). It started with just weight and sleep, but it's slowly growing. I recently added entertainment, potty time, smoking, mood, and something I call YFD pulse. You can now also download your data in CSV format.

Here's my YFD pulse…

Here's when I go… you know…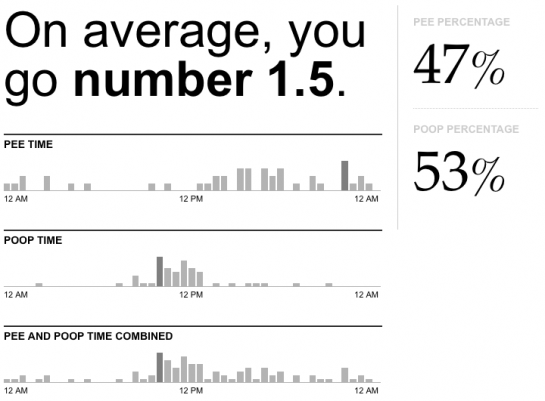 Now here's my sleep habits…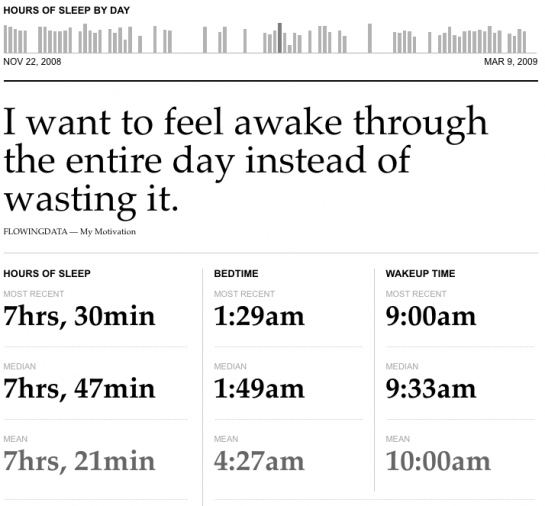 Alright, so maybe that's more information that you needed to know. But anyways, if you'd like to help me test your.flowingdata, I'm opening it up to the first 300 people. Just login at your.flowingdata with your Twitter info, and you'll be good to go. It's very tip of the iceberg at this point in development, but I'd love to hear what you all think.
UPDATE, 11:34am – It seems the Twitter whitelisting hasn't kicked in yet, so there's going to be some lag. Stay tuned. Feel free to continue logging data. No data will be lost while we wait. Sorry for the inconvenience.
UPDATE, 12:41pm – You can now login and create a YFD account. You can also start logging data. Although it won't appear, no data will be lost. I'm still waiting to get a response from Twitter.
UPDATE, 1:34pm – It looks like we're back in business. Updates will be slightly delayed until I'm absolutely sure, but feel free to create an account and record data.
UPDATE, 7:40pm – We're now back at the normal refresh rate of every 3 minutes. I'll increase the frequency in a couple of days.
UPDATE, 8:47pm – That's it for this wave of invites. Thanks everyone for the hugely positive response. Follow @yfd to stay updated on the next wave.