Who else has been enjoying the Olympics as much as I have? I think I might have developed an unhealthy obsession to the games these past few days with the 800 kajillion hours of NBC coverage.

The opening ceremonies was one of the most beautiful spectacles I've ever seen from the man-powered cascading blocks to the cable-suspended Li Ning "running" around the Bird's Nest to light the torch. It was one jaw-dropping performance after another.
The events have been equally exciting – gymnastics, basketball, and of course, swimming. Even some cycling, fencing, and air rifle every now and then is pretty entertaining.
New York Times Olympic Coverage
The Times has only fed my hunger with great infographics (as well as journalism and photos) covering the games. It began a few days before the start with a history of the torches (above), medal counts by geography and rank, and a schedule:
There's also been a bit about China's pollution: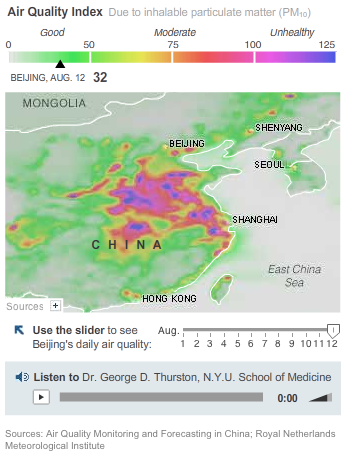 Now that the events are going on in rapid fire mode, the Times has been covering plenty of the goings on. We're all of course following Michael Phelps' progress. Here's a screenshot from a clip discussing one of Phelps' wins: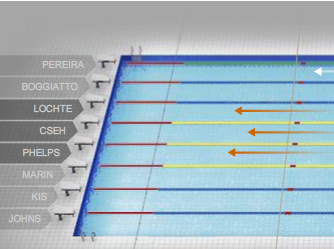 With success also comes some falls: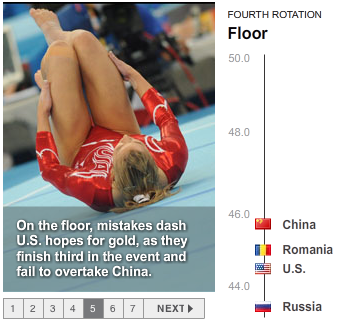 Let's not forget the maps: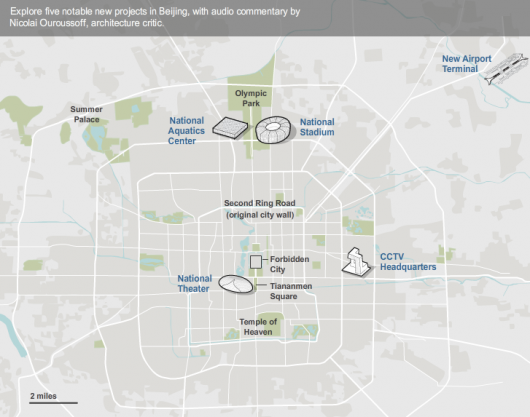 Great job, New York Times. I'm looking forward to the giant feature graphic on Michael Phelps when he wins 8 gold medals. Oh yes – he will. I dare you to disagree.