The infographics and news design blogs have been buzzing the past few days with the announcement of this year's Malofiej awards, which is essentially the awards ceremony for graphics in the news. There were winners from many papers around the world, but as you might expect, The New York Times shined brightest. The Times took home the Peter Sullivan Award (best in show) for Ebb and Flow at the Box Office (above) as well as the Miguel Urabayen Award (best map) for the Electoral Explorer (below).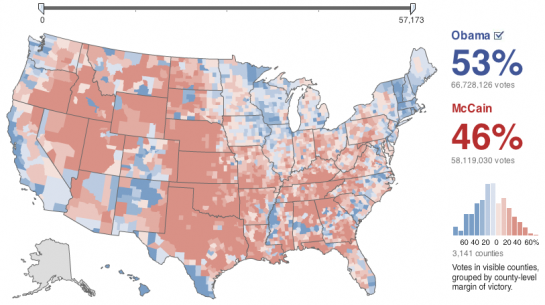 Also a big congratulations to Amanda Cox, the Michael Phelps of infographics. Not only did she have a hand in many of the NYT award winners; she also won gold for best individual portfolio. Amanda, you've made all statisticians proud. I can officially say I learned from the best in the world. Congratulations to the New York Times and all other winners. Great stuff.
You can find a full list of the winners through the links above.