I stumbled across this dataset covering piracy of Oscar-nominated films over the last 6 years and a short analysis.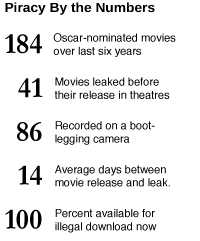 Despite the Academy's efforts to crack down on bootlegging, its attempts haven't done a whole lot. Focus on stopping one area, like downloading, another area just grows more prolific, like Region 5 DVDs from overseas. A quick search in the right places will show you that piracy isn't going away any time soon.
I even met someone whose job it was to find people who were "seeding" films through bit torrents and to report them to police. I got the impression that it was a really tedious process and people go uncaught most of the time. I'm uh, not condoning this, but if you don't want to get caught, just make sure you stop the torrent once you've got your file.
Bootlegging on Seinfeld
Bootlegging always reminds me of the Seinfeld episode when Jerry somehow gets caught up in a bootlegging scheme:
[T]here was a kid couldn't have been more than ten years old. He was asking a street vendor if he had any other bootlegs as good as Death Blow. That's who I care about. The little kid who needs bootlegs, because his parent or guardian won't let him see the excessive violence and strong sexual content you and I take for granted.
For those interested (and I know you are), the term bootleg originates from hiding flasks of liquor in the legging of boots. Ahoy, matey.
Photo by mumelopics