This graphic from The New York Times kind of caught me off guard. I guess we're starting to gain a bit more faith in the public's ability to understand visualization (yay). The graphic was created by the usual suspects — Matthew Bloch, Shan Carter and Amanda Cox — and as usual, great work.

Some Thoughts
It's an attractive, interactive visualization showing the patterns of money racked up at the box office over time. You can see Oscar contenders attract a smaller audience than the holiday and summer blockbusters and kind of slowly build an audience.
I'm not sure if there's any significance in the placement of movies on top and on bottom other than for aesthetic reasons. If you do see some significance, please do enlighten in the comments.
You might also have noticed that the flows get a lot bigger as you move forward in time, even though the numbers are adjusted for inflation. Strange. I wonder why that is. The actual numbers, however, aren't really the point of interest though. It's the patterns, uh, ebb and flow that are important which is made evident by the exclusion of concrete figures for each movie.
If you'd like to play with the data yourself, you should be able to find most of the figures at Box Office Mojo.
UPDATE: I was trying to think of the paper I read that covered something similar to this. I just remembered — ThemeRiver: In Search of Trends, Patterns, and Relationships by Susan Havre et. al.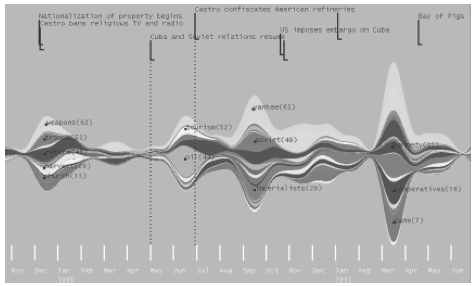 [Welcome to FlowingData, Boing Boing readers]