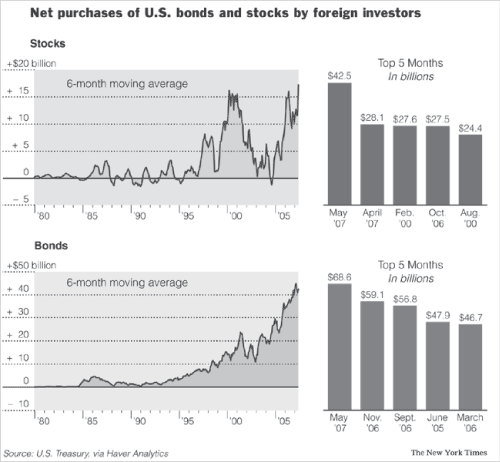 and here it is. Floyd Norris has a weekly editorial called Off the Charts. This week's was titled A Blockbuster Seller Overseas: Stakes in Corporate America. It's about the increase in the amount of money foreign investors are putting into American businesses. Check out the Business section in The New York Times! There's also an online version.
It was ridiculous how many changes had to be made to my first pass at the graphic. I suck (but I'm getting better, really!). Color, bar width, grid style, font size, axis size, alignment, plus and minus signs, spacing, and area fill.
While writing statistical reports for class, I think it was easy to get away with so-so graphics. Just plug some data into R, use the plot function, and ta-da. I'll never look at charts and graphs the same way again.