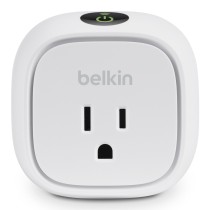 The WeMo Insight Switch from Belkin lets you remotely control a power outlet and tells you how much power the devices you plug into it use. More interested in the latter, I got one to see how well it works. Here are my first impressions with about a month of use and a week of data.

The Setup
Installation was straightforward as I followed the included instructions. You just plug the switch into any wall outlet and then treat it like a regular place to plug in your things.
Download the free app from Google Play or the Apple App Store, connect the device to your phone via the switch's local WiFi, and it automatically connects to your network using information from your phone. After that, which took a couple of minutes, the switch appears in the app. It's nice that you can do this without a separate hub like some alternatives.
One blip: As the switch connected to my network, there was a spinny progress circle, and I got stuck. But I closed and restarted the app on my phone, and the switch appeared in the app. I was good to go after that.
Usage
After connecting to the network, it's easy to turn the switch on and off. You can press a power button in the app, and the response comes in maybe a half second or less, or use the touch button on the top of the switch to flip manually. There's an audible click each time you turn on or off.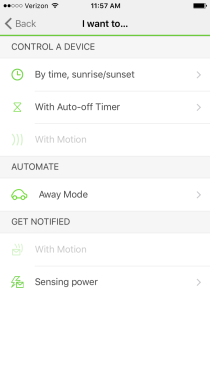 You can define simple rules through the app if you like, namely flip the switch at specified times or get a notification that a plugged-in device turns on or off (like a dryer). Or, you can hook the switch in to IFTTT to connect your switch to other services.
I experimented with IFTTT a little bit. My original plan was to use my Arduino and a motion sensor to ping the WeMo switch and turn my desk lamp on and off accordingly. After some initial experiments though, the switch didn't always respond and when it did, the delay wasn't predictable. So I ditched that effort for now. For me, these smart switches have to outdo the manual switching in convenience. There's no point otherwise, because the novelty wears off.
The Data
I mainly got this for the "Insights" part. The app itself is barebones in the data display department. The app just shows you how long the plugged-in device has been on today along with the average, estimated cost, and the average wattage when on.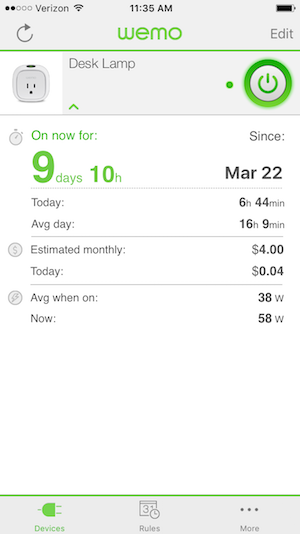 Like I said, I originally plugged in my desk lamp for testing. The duration that the lamp was on always showed as zero, even though I purposely left the light on for a few hours. I thought the app or switch just needed time to calibrate, but then I realized there's a threshold setting for the switch, which basically says not to count the minutes if watts are below a number you specify. This setting is available if you don't want to count standby power usage, and it's 8 watts by default. The LED bulb in my desk lamp didn't use enough power to register.
So I plugged in the surge protector for my desk instead. This includes an iMac, a WiFi printer, a MacBook Pro power cord, and of course the desk lamp. This gave me much more interesting data, which you can have emailed to you daily, weekly, or monthly. The CSV file contains daily totals and 30-minute segments for kilowatt-hours used. According to Belkin, data stays stored for 30 days, but so far my CSV dates back a month plus a week.
It turns out the data is a pretty good proxy for when I work.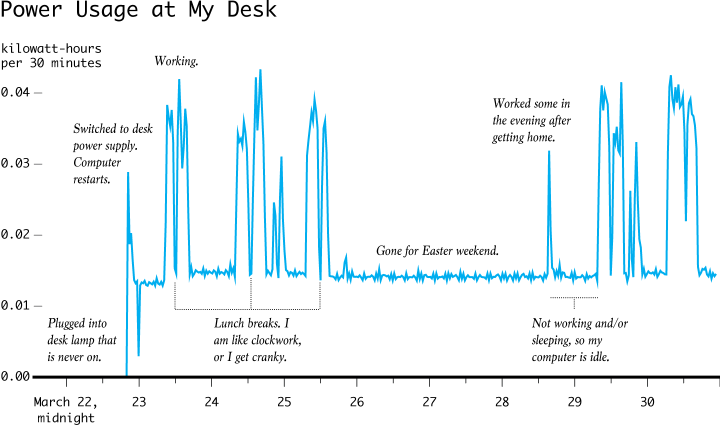 Working at my desk is basically like turning on a light with a 60-watt bulb.
Bottom Line
Overall, the switch works as advertised, and I'm happy with it.
Pros
You get data automatically emailed to you.
It's nice you don't have to commit to a whole system with a hub, and you can just buy more switches if you want to expand.
You can turn things on and off from your phone.
Cons
The app is limited, and if you want more than aggregates, you have to look at the data yourself.
The IFTTT integration wasn't great for me.
Recommended?
Yes. But only if you like CSV files.