Dash, an Internet-connected GPS device, is going to change the way you drive by making use of traffic data. Where does the data come from? Well, that's the best part.

Dash Uses Crowdsourcing
Utilizing the power of crowdsourcing, Dash uses traffic data from other Dash devices already on the road. Those who have a device make up the Dash Driver Network. Each device uploads data to the Dash servers, which in turn, communicates this information to the rest of the network. The more people who are in the network, the more data there is.
Each Dash Express anonymously and automatically sends its position and speed back to the Dash servers
Dash also receives traffic info from road sensors, commercial fleets and other sources through our partnership with Inrix
Dash then calibrates these sources against "ground truth" provided by the Dash devices actually driving the roads every day
Dash then sends out updates to all of the Dash devices in the area with current road speeds
The greatest part of this setup is how Dash uses the data. Unlike run-of-the-mill GPS, Dash modifies your trip based on traffic so that you really do end up taking the shortest trip. If you ask me, that's pretty amazing.
Exploring the Possibilities
I know, Dash devices aren't even on the market yet, but can you imagine if they tied in other types of data? What if Dash could calculate carbon footprint? Could drivers have the option to choose the route that spews the least pollution? What else could this be used for?
Dash is Taking Pre-orders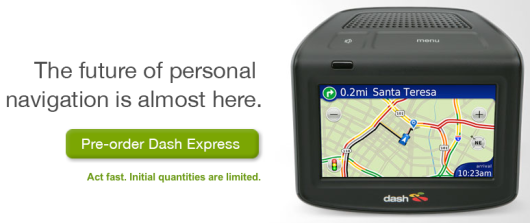 I won't mind at all if you want to buy me one. I signed up for the beta testing a year back but didn't get accepted, so really, it's no trouble. Really.
[via Gizmodo]