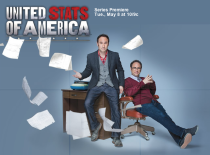 The series premiere of United Stats of America (See what they did there?) on History is tonight at 10/9c.
Episodes explore the stats that help us understand how much money we make (and what we spend it on), how long we will live (and how we will die), what we do with our free time (and how to make more of it) and a whole lot more. In one episode, the Sklars explain how the deadliest animal in America is neither the snake nor the shark but rather the deer. In another, viewers learn that Americans waste 4.2 billion hours a year stuck in traffic and that, in a nation with over 3.5 million square miles of territory, 99 percent of us are crowded into only 8 percent of the land.
I watched a couple of clips and got bored quickly as they went through a bunch of numbers. It seems like a rehash of Yahoo and Huffington Post lists with jokes. I'm setting my expectations low, but maybe there'll be more to it in the full episodes.
[Thanks, Gary]