It's been about three months since Visualize This came out, and in case you haven't gotten your hands on a copy yet, now might be a good time to get it. Amazon just lowered the price.
I didn't know price changed so much — although I'm not surprised — I'm guessing based on a number of factors such as third-party prices, competitors' prices, and sales. The Kindle version (not shown) changed a lot in the beginning, costing more than the paperback, but I don't think it's changed since it came down to the current price. You can see the changes, as reported by price tracking site Tracktor (just try to ignore the weird vertical scale).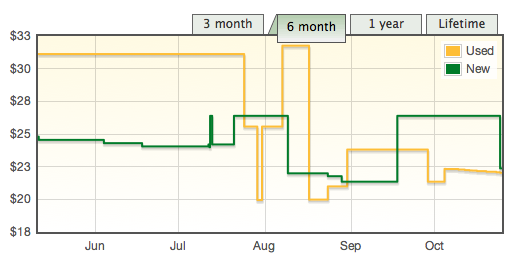 The used price is not completely accurate since there weren't any used copies available before the book was released in July.
Also, I'm not entirely sure about the listings for used books on Amazon, as all of them are from resellers with thousands of ratings. Four copies are listed for above retail, and one of those is more than four times as much. That expensive copy must be a special edition that I haven't heard about.