I was raised to always find the best deal whenever I bought anything. Wait for the sales, and then stock up. Drive an extra mile for the cheaper supply of gas. So thank goodness floatingsheep has mapped the price of weed across the country. The more yellow, the more expensive the weed gets and the darker the green the lower the price.

As was the case with the Sexperience 1000, these sort of private datasets do come with their caveats. The analysis was based on data from the Price of Weed, a user-managed source that tries to paint a geographic picture of cost. The people who use that site might not always be the most reputable sources. For example, the map above only used points where there were more than 10 pricings. When using lower the threshold to just greater than two points, the map shows higher variability.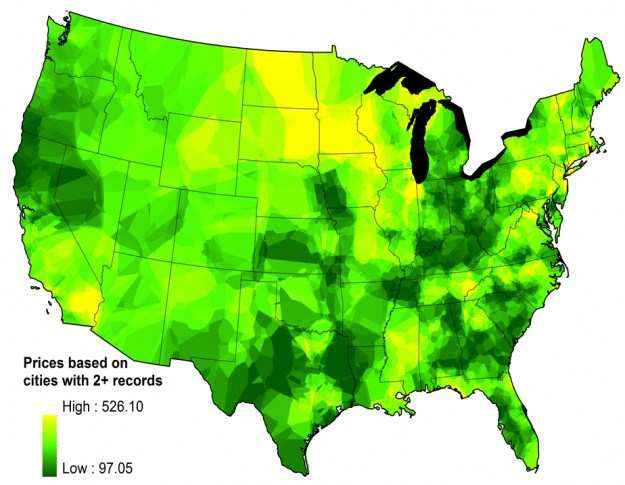 Or who knows, maybe the weed aficionados are extremely accurate. Bottom line: go to the source for the best price.
Floatingsheep notes:
One of the things that jumps out clearly is the low prices associated with the marijuana production sites associated with Mendocino, Trinity and Humboldt County in California as well as Kentucky and Tennessee.