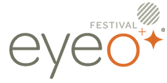 A few months ago, a packed crowd gathered in Minneapolis for the Eyeo Festival to hear some of the best in data art, visualization, and creative code talk about what they do and how they do it. I didn't get a chance to go, but from all the chatter online during the event (and the stellar speaker lineup), I get the sense I missed something good. Luckily, some of the talks are available online.
For starters, Ben Fry and Casey Reas talk about Processing, their grad school grown programming language; Aaron Koblin presents some of the work from the Google Data Arts team; and Nicholas Felton discusses the process behind his annual reports.
Catch a few more on the Eyeo Vimeo channel or to stay updated for when new videos are uploaded.