To show off their new toy that is WebGL, a 3D graphics API for JavaScript, the Google Data Arts Team maps global search volume by language:
The Search Globe visualizes searches from one day, and shows the language of the majority of queries in an area in different colors. You'll see a bright landscape of queries across Europe, and parts of Asia for instance, but unfortunately we see many fewer searches from parts of the world lacking Internet access—and often electricity as well—like Africa. We hope that as the Internet continues to become more accessible over time and people continue to ask questions, we'll see this globe shine brightly everywhere.
We've seen this sort of view before, but the interesting thing is that this runs native in the browser (and will probably send your fan whirling). Rotate and zoom in to your heart's content.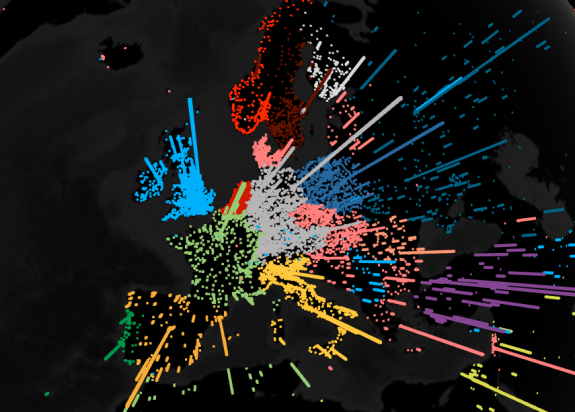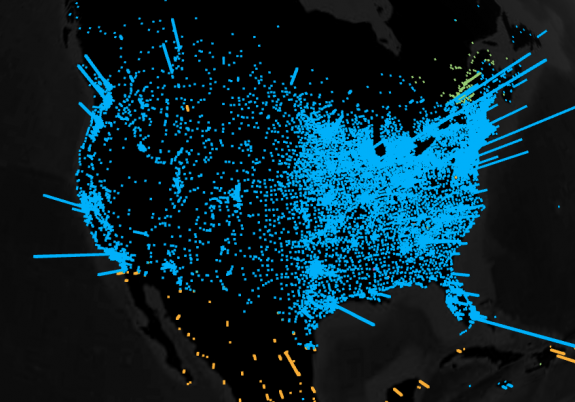 Play with the Search Globe here. You will need a modern browser and probably a non-sucky computer.
Perhaps the best thing that came out of this announcement is the discovery that Google has a Data Arts Team. It's headed by Aaron Koblin, who I knew has been at Google, but I didn't know there was a formally-named group. Nice. With Martin Wattenberg and Fernanda Viegas also at Google (on a different project, I presume), Google is clearly excited about the visual side of data.
Speaking of which, Nicholas Felton and Ryan Case (of Daytum) recently announced they're headed to Facebook, and it seems like every time I blink, Twitter has added a new graphics person to their fast-growing team. If you can do data visually, you've got a lot of opportunities ahead.
[Search Globe via @JanWillemTulp]