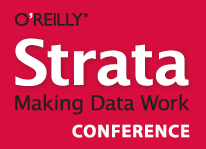 Following the success of the Strata conference earlier this year here on the west coast, O'Reilly is hosting another event from September 19 to 23. This time it's in New York.
If you're planning on going, I suggest you register now and save a few hundred dollars. Tomorrow is the last day for early bird registration. Plus, FlowingData readers can use the discount code FLOW at checkout for an additional 20% off (and support FlowingData in the process).
This time around there's the two-day conference on the 22nd and 23rd just like before, but there's also Strata Jumpstart on the 19th, which is "a crash course for managers, strategists, and entrepreneurs on how to manage the data deluge that's transforming traditional business practices across the board–in finance, marketing, sales, legal, privacy/security, operations, and HR." On the 20th and 21st, there's an invite-only summit.
So what you could do is go to Jumpstart, hang out in the amazing city of New York for a couple of days, and then round out the week with some interesting data talks and meetups.
If it's anything like the west coast conference — and I'm sure it will be — it'll be worth the time. When I went in February, I thought it'd be really business-y, but it turned out being an all-around fun event.
Register here, and be sure to use FLOW to get the extra 20% discount.