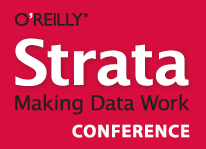 In case you haven't heard, O'Reilly's new Strata Conference on "making data work" is coming soon February 1-3 in Santa Clara, California. It's three days chock-full of data talks, tutorials, and events. And January 9 is the last day to get the early registration price.
So if you're thinking about going, I'd register soon. You might as well save a couple hundred bucks. Plus if you register via FlowingData, you get 25% off (and support your favorite data site in the process), which is applied at checkout.
There are a ton of speakers, including DJ Patil from LinkedIn, Philip Kromer from Infochimps, Hilary Mason from bit.ly, and Kim Rees from Periscopic (and technical editor for the upcoming FlowingData book). No doubt you will learn a lot and meet plenty of interesting people who are also into data.