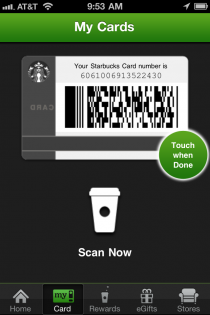 Jonathan Stark, a mobile application consultant, is running an interesting social experiment with his Starbucks card:
Jonathan's Card is an experiment in social sharing of physical goods using digital currency on mobile phones. I stumbled on the idea while doing research for a blog post about Broadcasting Mobile Currency.

Based on the similarity to the "take a penny, leave a penny" trays at convenience stores in the US, I've adopted a similar "get a coffee, give a coffee" terminology for Jonathan's Card.
Simply save the picture of Jonathan's Starbucks card onto your smartphone and use it to buy your coffee. If you like, add money to the card so that someone else can buy a coffee.
The best part is that Stark provides a simple API that returns the balance on the card every minute. When do people buy coffee? How do people give and take? Are people more likely to give when there's a large balance or when there's nothing left? Lots of fun things to look at.
[Jonathan's Card via @kn0thing]