You know Matthew Ericson's simple weather mashup? It shows only what you need to know for the day. WeatherSpark is the the opposite of that.

WeatherSpark is a new type of weather website, with interactive weather graphs that allow you to pan and zoom through the entire history of any weather station on earth. Get multiple forecasts for the current location, overlaid on records and averages to put it all in context.
See weather data all the way back to 1948, compare multiple cities, see historical hourly minimums and maximums, and see forecasts from three different sources. By default, you'll see cloud cover, precipitation, and temperature, but you can also view solar elevation, pressure, wind direction, and wind speed.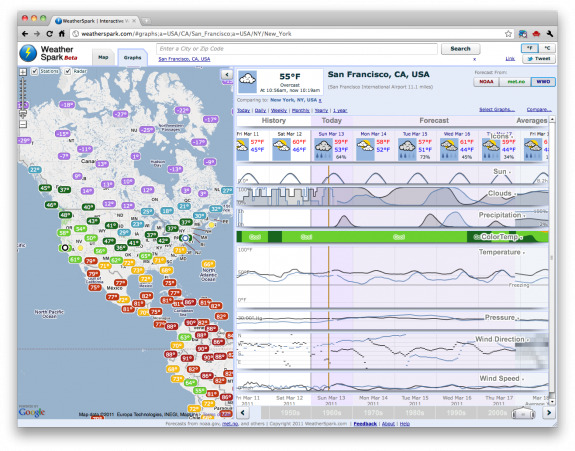 The interface is still rough, and it has that programmer's feel to it where it's about spitting out as much data output as you can. I don't imagine ever needing to know this much about the weather, but it's fun to click around for the sheer amount of graphage going on. You can also pretend to be a weatherman in your living room.