According to polls from the Pew Research Center, the Internet gained on Television as the public's primary news source in 2010. Poll results are shown in their graph below.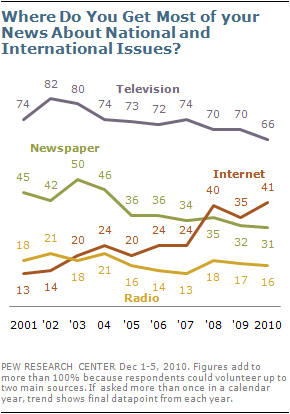 The graph isn't too bad, but it's kind of busy and could use some design. Can we do better? I think so. Here's the data as a CSV file. Get your graph on, and link to your efforts in the comments below.

You might also find the original Pew Research article helpful for background as well as more detailed data for demographic breakdowns.
One tricky point. Respondents were allowed to provide two answers if they wanted, but we don't have the raw data, so we don't know the exact answer breakdowns. That's why the percentages for each year don't add up to 100. Does this affect the design or does a small note on the bottom (like in the original) suffice?
Deadline: January 20, 2011
[Pew Research | Thanks, Elise]