LinkedIn has been having some fun with their data lately. They opened up the career tree a couple of months ago, and today they announced InMap to visualize your links as a network diagram. They call it InMap:
InMaps is an interactive visual representation of your professional universe that answers all of the above questions. It's a great way to understand the relationships between you and your entire set of LinkedIn connections. With it you can better leverage your professional network to help pass along job opportunities, seek professional advice, gather insights, and more.
Below is LinkedIn's chief scientist DJ Patil with a brief description of how it works.

Basically, nodes are color-coded by groups you've affiliated yourself with, and placement is based on how you and the people in those groups connect. Bigger nodes represent people who are more connected in the group. Zoom in for more detail, and pan to see what you want.
I don't think anything fancy is going on here, but it's interesting simply because you get to see your network, and it's up to you to decide what each cluster means. Update: Read DJ Patil's comment on challenges with scaling for such a big network.
Here's my LinkedIn network visualized. I don't have a ton of connections on the site, so my view is sort of lame, but there are some meaningful clusters in there. The green one is the research center that I worked with, while the orange are people I've sort of worked with. Then the three maroon-colored nodes are friends. The rest is hit or miss.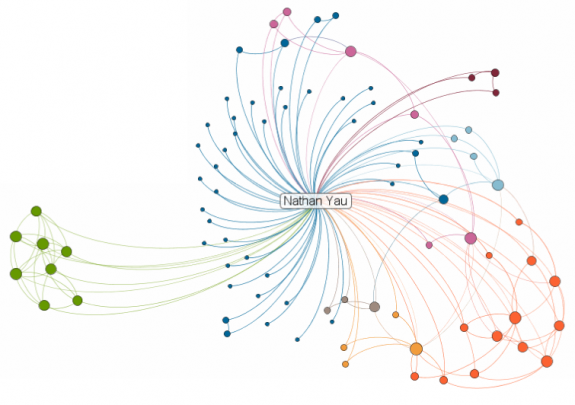 How does your network look? Let us know how it works for you in the comments.
[LinkedIn via @steveeichert]